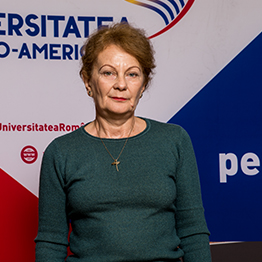 Short description:
MOISE ELENA graduated the Faculty of Economical Cybernetics within the Academy of Economical Studies in Bucharest in the year 1979.
She holds the PhD in "Management and Investment Efficiency" domain since 2003. She currently is University Conference within the Faculty of Managerial Informatics. Her domains of interest are: "Micro and Macroeconomics", "World Economics and Direct Foreign Investments". She is Associate researcher at the Institute of Economic Prognosis of the Romanian Academy.
She published over 30 studies in the Romanian Academy Archives and over 20 scientific articles, which were presented in national and international Conferences and published in various economic profile journals.
Being part of The Research Team, she participated in the development and implementation of the Guide of Incorporation and Operation of Simulated Companies, developed during the POSDRU program hosted by The Romanian American University of Bucharest.
Member of professional associations/organizations: –
Fields of interest/research: –
Hobbies: –