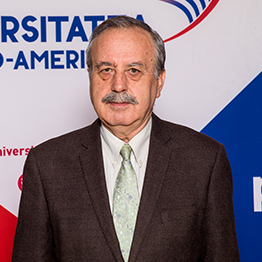 Short description:
University professor doctor Papuc Mihai graduated from the Faculty of Commerce at the Academy of Economic Studies.
To graduation, he received the recommendation, registered on the Government Repartition, to work in higher education, after completing the internships in the economic sector.
He has worked in the fields of internal and co-operative trade, going through all professional and administrative steps, up to the position of general manager.
In parallel, he frequented and finished postgraduate courses in foreign trade and deepened studies of foreign languages (French, German), organized by the Ministry of Foreign Trade.
In 1994, he enrolled for a doctorate at the Academy of Economic Studies, and in 1998 he received his doctorate in economics.
Since 2000 he is a teacher at the Romanian-American University, where he obtained all the teaching titles, from lecturer to university professor, as well as the position of department director.
He is currently a full professor in marketing disciplines, specializing in "marketing researches", being the author and the co-author of over 10 books in the field, published in recognized publishing houses.
Member of professional associations/organizations:
Fields of interest/research:
Market studies; Consumer behavior researches.
Hobbies:
The knowledge of other people nations culture through trips abroad