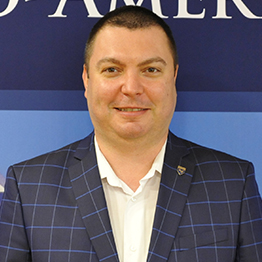 Short description:
Experienced Lecturer with a demonstrated history of working in higher education. Skilled in Economics, International Financial Transactions, Intercultural Communication, Analytical Skills, Education Internationalization, Digitalization, Entrepreneurship and business acceleration. Strong professional education acquired through a Post Ph.D. focused in World Economy and Finance from Romanian Academy, a Ph.D. focused on international financial transactions and a Ms. in International Business.
Proud alumni of the Romanian-American University bachelor and master programs and dedicated to teaching since 2003 and to academic service since 2005.
Management experience accumulated in positions like MBA Program Coordinator, Vice-Dean, Dean and currently VP for partnership development and digital transformation.
Member of professional associations/organizations: –
AEA – American Economic Association; EAIE – European Association for International Education;
SOREC – Romanian Society of Economy;
Fields of interest/research: payment methods, international finances, risk management, education internationalization, digital transformation (in education), business mentoring, entrepreneurship, business acceleration
Hobbies: Airsoft, Apple enthusiast, Outdoor adventures.