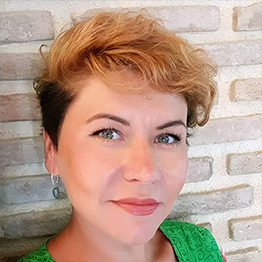 SLAVUTEANU(BROZBA) GABRIELA ANIDORA, Ph.D. Associate Professor
Email: [email protected]
Short description:
Gabriela Slavuteanu (Brizbă) is an Associate Professor at University of Bucharest with a PhD and a post-doctoral degree in "Philology", namely "Applied English Linguistics".
She teaches "phonetics" and "phonology', as well as pragmatics and derivational morphology.
She has attended various national and international conferences, colloquia, workshops and summer schools.
She is the author of several published books, among which we mention notably: "Between Reality and Myth: A Corpus-based Analysis of the Stereotypic Image of Some Romanian Ethnic Minorities" (2010), "The Phonology of New Englishes" (2012), "From Hero to Zero: English Phonetics and Phonology" (2018). She has been teaching seminars of Business English at RAU since 2007, both in the Romanian-taught and the English-taught BA programs.
Member of professional associations/organizations:
since 2013: member of ISLE (International Society for the Linguistics of English);
since 2013: member of RSEAS (The Romanian Society for English and American Studies);
since 2014: member of the Center for the Study of Language Development and Linguistic Communication, University of Bucharest;
since 2016: President of the Central Committee of the English Olympiad;
since 2016: Vice-president of the National Specialized Commission;
Fields of interest/research:
Her main research interests include phonetics and phonology, non-native Englishes, sociolinguistics, pragmatics, and dialectal variation, among others.
Hobbies:
Reading, cooking, travelling, art in all its forms (visual, cinematic, musical, etc.)