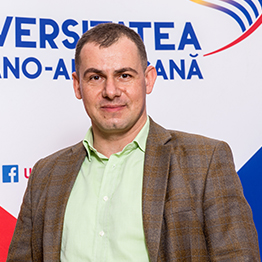 BUDACIA LUCIAN CONSTANTIN, Ph.D. Lecturer
Short description:
Lecturer Lucian BUDACIA, PhD has a doctorate in accounting since 2008, from the West University of Timișoara. He is a graduate of the Faculty of Domestic and International Business, Banking and Finance, Romanian – American University He is a tenured lecturer at the Romanian – American University since 2002.
He teaches subjects such as: "The bases of accounting", "Financial accounting", "The accounting of public institutions".
He participated in many conferences, symposiums, national and international scientific sessions. He also collaborates with the business environment, having experience and expertise in the field of internal audit, public accounting, and financial accounting services.
He is the author of the first video book in Romania, www.bazelecontabilitatii.ro, which has the following motto: "The future of education is online".
Member of professional associations/organizations: –
Fields of interest/research: –
Hobbies: –