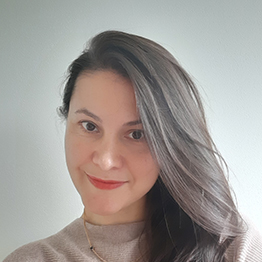 Short description:
Denisa Dumitraşcu holds a Ph.D. in British Literary and Cultural Studies, which she received from the University of Bucharest, in 2012.
She was a visiting Ph.D. researcher at the University of Zürich, Switzerland, between 2009 and 2010, and has taught Business English and Inter-cultural Communication at the Romanian-American University, Romania, between 2005 and 2019 (and online since October 2020).
Between 2014 and 2016, she taught Business English and Cross-Cultural Awareness at the University of Applied Sciences of Amsterdam, and since November 2020 she is teaching at University of Applied Sciences of Groningen.
 She teaches business communication skills in English, Romanian, Italian and French and she is a conference interpreter.
She is also an internship supervisor, academic advisor and BA graduation thesis assessor.
She has been a guest lecturer at various universities in France, Norway, Finland, Belgium, Spain, Italy and Denmark and Japan.
Fields of interest/research:
Literary Studies
Cultural Studies
Hobbies:
Painting
Music
Reading
Theatre
Mountain walks