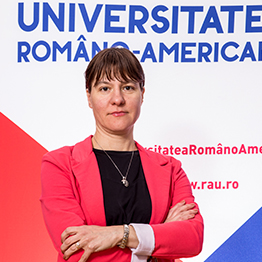 DUMITRU NICOLETA ROSSELA, Ph.D. Associate Professor
Short description:
Nicoleta Rossela Dumitru graduated from the School Of Domestic And International Tourism Economics at the Romanian-American University of Bucharest in 1996. She holds a PhD in Marketing since 2008.
She is an associate professor in the Management-Marketing department at the School Of Management-Marketing.
Coordinates undergraduate and dissertation works in the field of "marketing". She was a member in commissions for university teaching positions (assistant, lecturer, associate professor), in organizing or scientific committees on the occasion of organizing events / research activities at the Faculty level (Symposia, Round Tables, National Olympiad of Economics Students – Marketing Section etc.).
She coordinated student scientific circles; participation as a member or secretary in the commissions for organizing student scientific sessions and in the committees for guiding and evaluating the profile practice of students.
She has been a member of the Council of the School Of Management-Marketing – URA for over 10 years and since April 2020, a member of the Senate of the Romanian-American University.
In the period 2008-2016 he held the position of Scientific Secretary at the School Of Management-Marketing -URA.
Areas of interest are: "marketing", "communication", "promotion techniques". She has published over 40 specialized articles presented at conferences or in magazines.
Member of professional associations/organizations:
Association of Romanian Faculties of Economics (A.F.E.R.)
Hobbies: