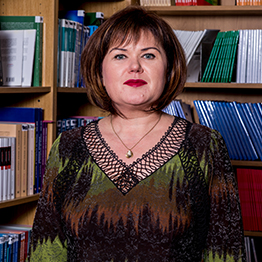 GABROVEANU EMILIA, Ph.D. Professor
Short description:
Emilia Gabroveanu is Associate Professor, member of Finance, Credit, Accounting Department at Romanian – American University.
She teaches and/or has taught, at undergraduate and postgraduate level, the following subject areas: "Accounting Basics", "Financial Accounting", "Managerial Accounting", "Financial Control and Audit", "Financial Accounting and Reporting", "Accounting Expertise".
She is a graduate of Faculty of Accounting, Academy of Economic Studies of Moldova, Class of 1998, and has achieved Ph. D degree in Accounting in 2004 at Bucharest Academy of Economic Studies.
She has experience in organizing, managing, and developing business in the private sector, gained both through specialized training and practical activities.
She has researched and written 6 books and over 25 scientific papers, being involved in 6 research projects.
Member of professional associations/organizations:
Active member of the Body of Expert and Licensed Accountants of Romania (CECCAR);
Member of the National Union of Insolvency Practitioners of Romania;
Member of the Scientific Management Society from Romania;
Member of the Romanian Distribution Committee.
Fields of interest/research:
Financial and managerial accounting; Financial reporting; Financial Audit; Accounting expertise; Taxation; Financial and economic analysis
Hobbies: