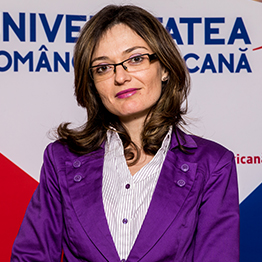 GRIGORESCU IOANA GABRIELA, Ph.D. Assistant lecturer
Short description:
2007 – Graduate of the School Of European Economic Studies within the Romanian – American University / Bucharest.
BSc degree in Economics.
2015 – PhD in Economics Science. Presently – Works as an assistant professor at the School Of Computer Science For Business Management. She is a member of the board of the department of Commerce, Economic Integration and Business Administration.
Member of professional associations/organizations: –
Fields of interest/research:
Teaching and training students in "micro and macroeconomics" field.
In addition to the professional training segment, focuses on developing of communication skills, as well as upon the ability of teamwork.
Hobbies:
Gardening – as it offers a direct way to connect with nature through itself;
Dancing – for its entity to develop a unique way of communication between partners, as well as for the possibility of self – expression through elegance and energy.