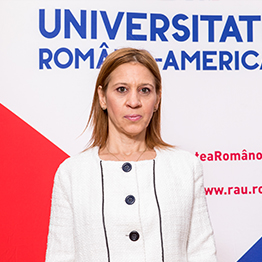 IONIȚĂ-BURDA ȘTEFANIA-DIANA, Ph.D. Assistant lecturer
Short description:
ȘTEFANIA-DIANA IONIȚĂ-BURDA, graduated (1996) the Faculty of Law at Romanian American University.
The PhD in Public Order was conferred on her (2012) and also she is a PhD student in Law (2016), the research focusing on environmental issues.
She is assistant professor in the "Legal Sciences Department and legal advisor in the Bucharest College of Legal Advisers.
As author / co-author, she has published 5 academic courses / specialized works, at recognized publishing houses and 25 articles / studies, in specialized journals / volumes of scientific events and she was member of a research contract team.
Member of professional associations/organizations: –
Fields of interest/research:
Hobbies: –