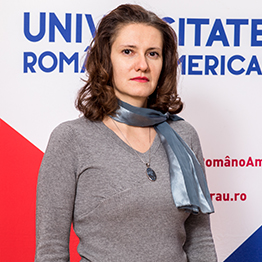 Short description:
Alexandra Mărginean is a lecturer at the Romanian-American University and a member of the university's Department of Foreign Languages and the School of Domestic and International Tourism Economics.
She has been teaching English for Specific Purposes at all the economic schools of the institution, as well as a course in communication and interculturalism to students from Tourism Economics.
Besides her doctoral thesis, she has published a book, in January 2019, and over sixty articles in national and international publications, most of which as a sole author in various areas of philology, such as cultural studies, linguistics, pragmatics, communication, interculturalism, media and arts, and some in collaboration, in other areas, such as tourism, e-commerce, marketing and management etc.
Member of professional associations/organizations: –
Fields of interest/research:
Cultural studies, linguistics, pragmatics, communication theory, interculturality, media and arts, tourism, marketing
Hobbies: –