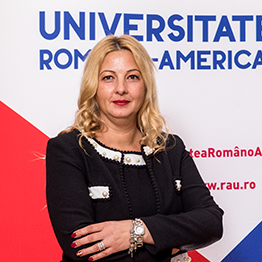 MUȘEANU ELENA, Ph.D. Associate Professor
Short description:
Elena MUȘEANU is an Associate Professor, PhD at Romanian – American University, Bucharest, Romania.
She has been teaching "English", "Business Communication in English and Intercultural Communication" for the RAU students and Romanian as a Foreign Language for The Foundation Year. She is the director of the Department of Foreign Languages and a member of the University Senate. As a director of the Department of the Foreign Languages she coordinates the organizing committee of the international conference "Crossing Boundaries in Culture and Communication". She graduated the Faculty of Letters, University of Bucharest.
She received her PhD in Philology at University of Bucharest (coordinator Professor Angela Bidu-Vrănceanu, PhD).
She has since published more than 35 articles in international and national scientific journals, author and coauthor of more than 10 books.
She is a member of Realiter (Panlatin Network of Terminology) and of RSEAS (The Romanian Society for English and American Studies).
She has been involved in national and international research collaborations.
Member of professional associations/organizations:
The Romanian Society for English and American Studies (RSEAS)
Panlatin Network of Terminology (REALITER)
Fields of interest/research:
Linguistics, Terminology, Intercultural Communication, International Business Communication in English
Hobbies: