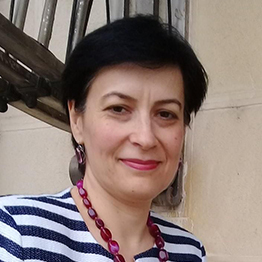 Short description:
Doctor in philology – in 2013, at the University of Bretagne-Sud, Lorient, France, she defended her Ph.D. thesis entitled "Constitutional Monarchies in Britain and Romania. Their Representations in the Royal Discourse of Queen Elizabeth II and King Mihai I". She was awarded a doctorate with the distinction summa cum laude.
She holds a Master's degree in British Cultural Studies, from the Faculty of Foreign Languages and Literatures of the University of Bucharest.
She holds a Bachelor's degree, specializing in "English language and literature – French language and literature" at the Faculty of Letters and Sciences of "Oil-Gas" University of Ploiești.
She is an associate professor (with tenure) at the Technical University of Civil Engineering Bucharest (Department of Foreign Languages and Communication) and a collaborator of the Romanian-American University.
Publishes scientific articles in the fields of critical discourse analysis, British culture and civilization, cultural history, Legal English, Business English, cultural history, the history of constitutional monarchy in Europe;
TV appearances in debate shows on history and culture and the history of the constitutional monarchy in Great Britain and Romania;
Holds conferences on constitutional monarchy and royal portraiture such as the conference entitled "Decoding Royal Portraits: Ferdinand and Mary – from Crown Princes to the Sovereigns of Great Romania", which took place at the National Museum of Art of Romania, Bucharest, on 25 September 2019.
Member of professional associations/organizations:
Member of the Research Center in Applied of the Technical University of Civil Engineering Bucharest
Fields of interest/research:
Critical discourse analysis
British culture and civilization
Cultural history
Legal english and business english
Cultural history
The history of constitutional monarchy in europe
Hobbies:
Reading, writing, philately, swimming, gardening, birdwatching.