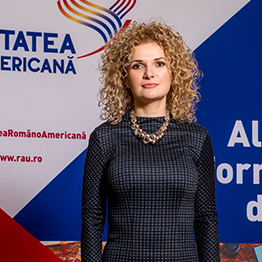 Short description:
The educational path I chose was not by chance. Ever since childhood, I had technical skills. For many years I have been among the first students in my class, in subjects such as "physics", "chemistry", or "mathematics", in which I participated in the Olympics where I won many awards and mentions.
Thus, I chose a high school with a real profile, later I attended the School of Computer Science for Business Management within the Romanian-American University.
Longing to expand my knowledge area I followed a master's degree in "Financial-Banking Management" within the same university, followed by a PhD. in Business Administration at the Bucharest Academy of Economic Studies, during which I obtained a research scholarship.
Regarding the profession, due to the excellent results obtained during the four years of college, I was offered to stay at the university as university staff, a proposal that I embraced with pleasure, the proof being that I am in the URA family since 2005.
During all these years, I wanted to evolve both professionally and personally. Thus, I have published over 30 specialized articles, both national and international, I have participated in various scientific conferences, I am the co-author of six books and the single author of one book.
Member of professional associations/organizations:
Member of the Romanian Distribution Committee
Member of the Association for Quality of Services (ACS)
Fields of interest/research:
Artificial intelligence
Online business modeling
Data manipulation
Optimizing business decisions
Hobbies:
Sports, read, travels, the music