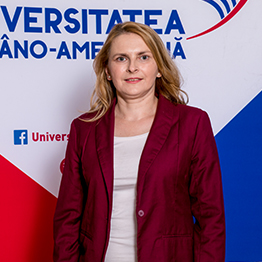 STĂNICĂ LAVINIA JUSTINA, Ph.D. Lecturer
Short description:
Lavinia Stanica is a lecturer at the School of Computer Science for Business Management, having 18-year teaching experience within the Romanian-American University, with expertise in the field of "computer programming".
Her teaching experience – including courses in the English taught Bachelor and Master programmes – not only gave her the chance to improve her pedagogical methods and English skills, but also offered an important advantage when interacting with international students.
Since 2011 she holds a PhD in Cybernetics and Economic Statistics.
The doctoral research showed her interest in identifying and implementing the newest and most modern teaching – learning methods. Her research focused on identifying the technologies used in creating e-Learning systems and applying the learning objects technology in the development of an integrated environment for teaching mathematics.
She also has a good research and publishing activity – she has been a member in the research teams of six scientific projects, co-author of four books, and author or co-author of more than 30 scientific papers published in national and international volumes.
Since 2013 she had been the Erasmus coordinator of the School of Computer Science for Business Management, and starting 2020 is the Erasmus Institutional Coordinator of RAU.This represents a great opportunity to get involved and coordinate RAU's internationalization activities and opens up new horizons towards establishing new ways of collaboration with academics from other universities abroad.
Member of professional associations/organizations: –
Fields of interest/research:
internationalization of higher education
Hobbies: