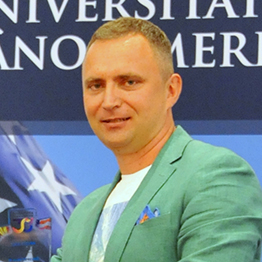 Short description:
An experience of approximately 20 years in the field of education, auditor certified by C.A.F.R. and A.S.P.A.A.S., a chartered accountant authorized by the C.E.C.C.A.R.
Passionate teacher. An entrepreneur. I consider that I am a good speaker and I bring an extra knowledge and value in the field of audit and accounting.
If I analyze the feedback of students from previous years, I probably get a good grade on the tax consulting side. 🙂
Within the Romanian-American University most hours are at the level of the master's degree in "Business Management and Audit" (G.A.A.), through the practical and theoretical elaboration of courses and seminars for the part of Internal Audit and subjects related to in-depth Accounting.
We have written several books and articles in the field of audit and accounting, the practical experience developed each year, at least 15-20 annual statutory audit missions, 5 internal audit missions and we add the audit missions on European funds.
Member of professional associations/organizations:
The Body of Chartered Certified Accountants and Licensed Accountants of Romania
Romanian Chamber of Financial Auditors
Authority for Public Supervision of the Statutory Audit Activity
Fields of interest/research:
Audit, Accountancy, European funds, Financial analysis, Tax advice
Hobbies:
Tennis, Travels, The picture, Mountain walks, Mountain bike, Venture, Adrenalin, Socialization, Dance, Football, Swimming, Table tennis, Skiing, Kayak, Rafting, Walks in the rain, Bowling, Billiards, etc. 🙂