Students' elections for RAU management structures (Nov. 2022)
RAU BA and MA students are invited to submit their candidacies to represent their colleagues in the management structures of the University – the University Senate and the Schools' Councils.
The candidacies for the election of the students' representatives in the management structures from the Romanian-American University are individual.
VACANCIES (November 2022)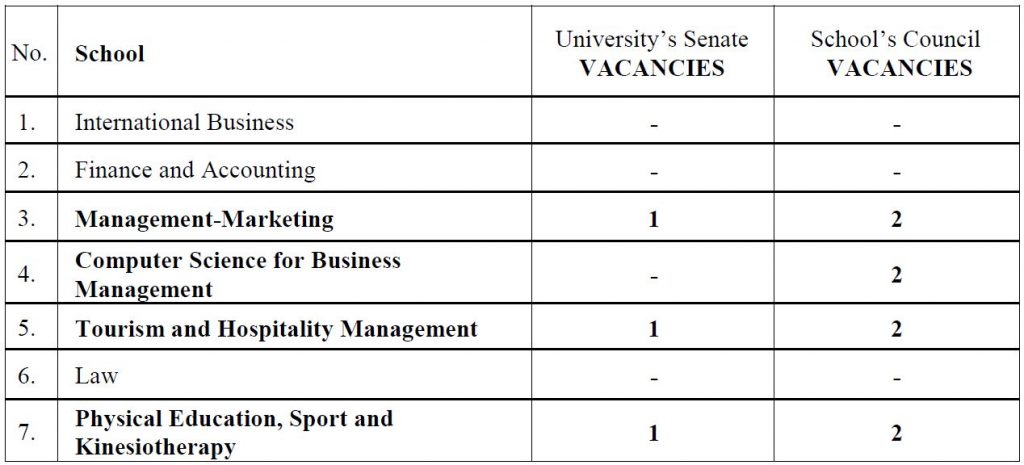 Candidates must apply by creating an APPLICATION FOLDER, sent via email at [email protected], with the following documents:
Declaration of Intent, signed and sent inclusively to the 

[email protected]

 email address;
Curriculum Vitae (Europass type) – signed and scanned, which will also include a brief description (approx. one A4 page) of the activities conduced until now (e.g.: volunteering activities, extracurricular activities, etc.);
1 color photo (3/4, passport type), electronic format;
ID card copy (IC, passport or other document legally replacing the identity card).

In case of candidates with changed names, we also require copy of the documents related to the changed name – marriage certificate or legal proof of name change.
ELIGIBILITY CRITERIA:
Can submit their candidacies for the election as Students' Representatives, those students that:
do not have their study's contract suspended,
have no sanctions at the time of the application
can prove an active involvement (participation in at least 3 extracurricular actions) in the University's activities (for students enrolled in the higher years of studies) or, as an exception, in similar activities carried out inside or outside the University (for first year students) .
Students can submit the applications until 10th of November 2022.
The responsibility for organizing and conducting the elections of student representatives in the RAU management structures rests with the Students' Central Election Office, who can be contacted at [email protected].